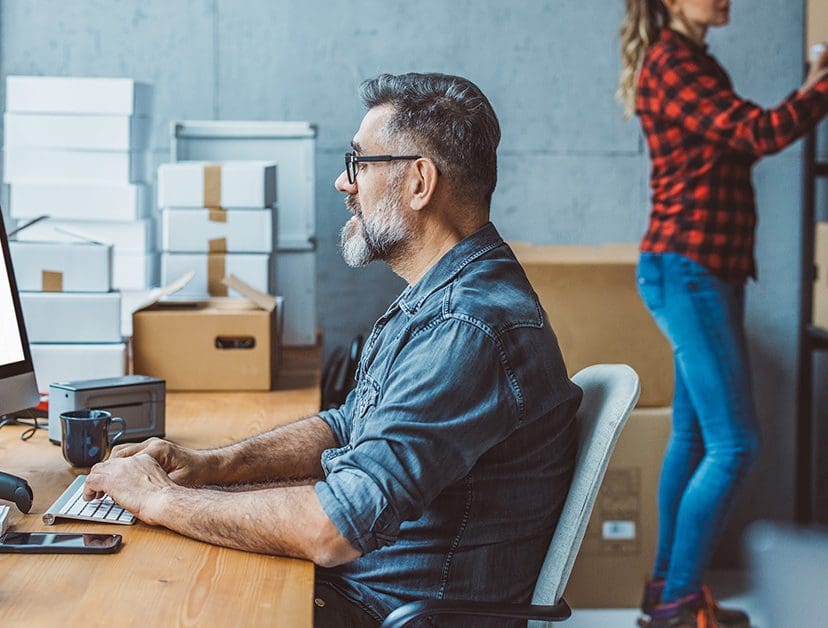 Which ERP-Integrated Ecommerce Platform Best Fits Your Business Needs? Learn Here With Pros and Cons
24 November 2022
The pandemic has accelerated ecommerce business growth — B2B ecommerce in the U.S. is expected to reach $1.77 trillion in 2022.  
But to ride this wave of growth, you need to choose the best ecommerce platform for your business. You need an ecommerce solution that's efficient, streamlined, scalable, and user-friendly. 
Integrating enterprise resource planning (ERP) with ecommerce website is a step in this direction.  
According to Software Path, the top reasons why businesses integrate their ecommerce with ERP are to: 
Enhance growth 
Improve functionality 
Promote efficiency 
The first step is understanding the types of ERP integrated ecommerce available, their benefits and shortcomings, and how each can help your ecommerce platform. 
In this guide, we'll cover: 
Ecommerce ERP Integration 
Comparison of Ecommerce ERP Integration Solutions
Final Thoughts: Comparing ERPs To Integrate With B2B Ecommerce Platforms 
Ecommerce ERP Integration 
Ecommerce integration with ERP, also known as ecommerce ERP, simply means connecting your ecommerce platform with an ERP solution.  
The ERP takes care of your administrative and operational tasks in a centralized, cloud-based system. Connecting your ecommerce site with your ERP automates several processes while streamlining orders. 
Benefits of Ecommerce ERP 
In a survey by Deloitte, 70% of companies said that the pandemic accelerated their digital transformation. An ERP ecommerce integration is an important step toward digitalization.  
Integration of your ecommerce website to your ERP is crucial to:  
Save time and money 
Automate administrative and operational processes 
Centralize data 
Reduce the chances of human errors 
Improve customer satisfaction 
Comparison of Ecommerce ERP Integration Solutions 
Below, we've provided the pros and cons of different ERP ecommerce integration platforms. Read on to learn which one is the best for your business. 
1. Ecommerce Platform With an ERP Connector 
ERP connectors (also known as third-party connectors) are companies that build software for an ecommerce company's products whether open source or proprietary. 
For example, a connector enhances and facilitates your ecommerce store by displaying your products, collecting and shipping orders, managing payment gateways, tracking delivery, and releasing payment after taking a fee for all those functions. 
Examples of third-party ecommerce platforms with ERP connectors include some of the most popular open source ecommerce platforms, such as Magento, Shopify/Shopify Plus, BigCommerce, and WooCommerce. 
Pros 
Ecommerce platforms can focus on their core deliverables while the peripheral aspects of their businesses are taken care of by third-party connectors. 
More add-ons, apps, and templates available. 
Third-parties have many existing customers. That helps businesses feature and sell their products at any time without using extra marketing tools. 
That makes third-party ecommerce software great for B2C business owners where the presence of individual buyers increases the chances of successful checkouts.  
Cons 
Third-party apps lack native integration to ERPs, so they need a connector to pull and push information from an ERP to an online shop.  

That means another company needs to be involved, raising costs for your online business.
Third parties charge a large percentage of sales as fees and levy additional charges for listings, ads, and apps.
Since these platforms are mainly geared toward B2C store owners, implementing B2B features like custom prices and customer-specific rules adds to the company's costs. 
The plugins require further customer support over time, which can be inconvenient. 
You usually need in-house technical support to take care of updates, maintenance, and changes. 
Third-parties are costly to implement, and they may increase their pricing over time.  
To the third-party provider, you're just another brand they support. You can't stand out with your brand identity or customer experience.  
2. Ecommerce Tightly Coupled to Your ERP  
Tight Coupling is the method of binding resources for specific purposes and functions. The components of the ecommerce platform and the ERP platform are dependent upon each other in this scenario. 
Ecommerce tightly coupled to ERPs include Sana Commerce and Dynamics eShop.  
Pros 
Data is pulled from your ERP platform in real-time.  
Cons 
An embedded solution isn't flexible. Since the ERP and webstore depend on each other, a change in one requires a change in both. That can be expensive and troublesome making it difficult to implement future changes to your ERP or ecommerce platform. 
One platform's maintenance will halt the other, leading to further inconvenience and potentially putting the ERP environment unusable.  
SMB ERPs aren't meant to handle hundreds of concurrent users. But in an embedded system, the ERP is supposed to handle the traffic. So, whenever there's a surge in demand, like for Back to School, Black Friday or Christmas, the ecommerce website's performance as well as your ERP will be negatively impacted, 
Your service-level agreement (SLA) depends on the ERP. You have little flexibility in negotiating a better deal.  
A security breach in the ecommerce platform could expose any data managed in the ERP that should never be accessible publicly.  
3. k-ecommerce's Sync Technology 
k-ecommerce's proprietary Sync Technology synchronizes data from the ERP back-end system to your k-ecommerce platform and vice versa. It offers an online storefront integrated with your ERP.  
Customer requests (orders, information, etc.) are synchronized to your online store. That eliminates data entry errors in two separate systems and empowers you to provide the best customer experience. 
Pros 
The information on your ERP, such as inventory, prices, or customer data, is seamlessly synchronized with your online store through k-ecommerce's Sync Technology. That creates an error-free solution for your ecommerce business.  
Your ERP data is always available online, and orders can be processed in a matter of minutes. With a faster order turnaround, you can increase customer satisfaction and grow your base of loyal users. 
The seamless synchronization saves time, money, hassle, and human resources.  
Reduces the chances of human errors from managing two databases with customer and order information.  
Even if the ERP platform goes down for maintenance or upgrade, the ecommerce platform still works.  
Sync Technology uses secure TLS 1.2 Web Service to transfer ERP information to your ecommerce website. This keeps your company's back-end data encrypted and secure.  
You can add more functionalities to your ERP later on as the ecommerce platform isn't tightly coupled to your ERP.  
Your ecommerce platform will continuously evolve and improve without any impact on your ERP. 
Since your SLA doesn't depend on the ERP, you don't have to worry about price hikes or changes in contract terms. 
Cons 
The ERP's customized features could impact your ecommerce platform. 
The synchronization could take a while. For example, if you make several thousands of changes to your prices, it might take a few minutes for the data to sync.  
Final Thoughts: Comparing ERPs To Integrate With B2B Ecommerce Platforms 
While all of the ecommerce ERPs integration discussed here have their pros and cons, the best solution always depends on your business needs and resources.  
 If you are looking for a flexible, reliable solution with low impact on internal resources and predictable costs, our ERP-integrated ecommerce platform fulfills all of those criteria. 
To learn more, contact our ecommerce experts today.