How Marketers Get the Most from ERP-Integrated Eommerce
23 July 2019
This article was originally featured in ERP SoftwareBlog. You can read the original article here.
In some ways, e-commerce is the best thing that ever happened to marketing.
Before the internet, everything was TV, radio, and print. You purchased spots and advertised, in the hopes that shoppers hearing your jingle often enough would eventually give you a call or drop by your brick-and-mortar store. And even then, you were pretty much restricted to business hours.
With the rise of the world wide web, the limitations of time and space literally fell away. Today's marketing teams can target customers on the other side of the globe and generate conversions 24 hours a day, seven days a week.
A well-designed, ERP-integrated e-commerce website is arguably the most powerful tool in a marketer's arsenal. But it isn't enough to just put up a web store. Your platform must continually adapt and evolve based on your target audience, product performance, and promotional strategy.
So how does an e-commerce marketer harness the full potential of an ERP-integrated web store platform? Which features are the most important for maximizing that conversion rate?
Let's find out.
Analytics
Data is marketing's lifeblood. Without continually-updated information on conversions, abandoned carts and customer behavior, your marketing efforts are flying blind.
Most e-commerce platforms are developed with some degree of reporting capability. At the very least, you should be able to see your customers' abandoned carts, your best-selling products, stats on recent promotions, and so on.
However, to really take a deeper look at customer behavior and see how your products are performing, you will want a solution that can integrate with Google Analytics. When it comes to deep-dive reporting with customizable variables and search parameters, Google Analytics is one of the best tools available.
It not only delivers exhaustive site data, but lets you set specific marketing goals for each page. This can be anything from conversions to traffic volume or amount of time spent on each page.
That said, an ERP-integrated solution all on its own makes it easy to track certain key performance indicators (KPIs). The single-view data of an integrated system lets you review KPIs like Average Order Value and Cost of Goods Sold at a glance.
Content Management System
The purpose of analytics is to know what's working and what isn't. That way, you can optimize your successful strategies, and overhaul your unsuccessful ones.
Of course, this is only possible when you have the power to make updates to your web store on the fly. The market can shift overnight. Your team needs to be able to respond and adapt in real time.
That's why it's essential to choose a solution with a built-in Content Management System (CMS). This gives you the freedom and flexibility to make adjustments to your website whenever you need to.
Without a CMS, you're forced to contact your e-commerce provider every time you want to make a site update. Whether you're creating a new landing page for a promotion, or making a simple change to the color or theme, you're dependant on the availability of a third party—and on their ability to get it right.
A built-in CMS empowers you to make all these changes yourself, as often as you need to. It gives full control to your marketing team, letting them respond immediately to the data your analytics provide.
SEO
All marketers want to drive more traffic. The best way to do that is with Search Engine Optimization (SEO).
Numerous factors contribute to how well a website ranks on Google and other search engines. These range from front-end elements like the content on your web store's pages, to off-site elements like the quality of the websites linking to you.
There are also back-end elements like meta data and alt tags. This includes things like the page title and meta descriptions. Your customers will never actually see most of these elements directly. Nevertheless, they are critical to helping search engines assess the relevance of your page.
A good e-commerce platform includes SEO tools, often as part of the CMS and product catalog functionality. These tools let you enter your meta data in clearly-marked, easy-to-use text windows. That way, even non-technical marketers can implement quick changes to your SEO strategy.
Dynamic Product Catalog
Your web store is just that: a store. And just like you'd optimize product placement in a brick-and-mortar store to move your inventory faster, you'll want to do the same online.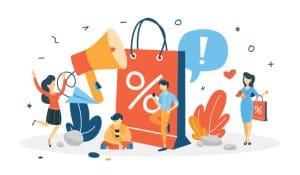 Properly showcasing your product catalog means presenting your items in a compelling way while providing your customers with the information they need. Today's online shoppers do extensive research before they buy. They compare everything from specs to prices, so the more product data you make available to the customer, the more likely you are to engage them.
This also applies to product descriptions, which not only inform the customers but serve as an important factor to your SEO.
High-quality images and, when applicable, video are also important elements to a product page. Since customers can't physically touch the item before buying, they want to know what it looks like, and ideally see it in action.
Allowing customers to rate and review products not only greatly enhances the user experience of your store, it provides your pages with unique content that helps you rank in search engines.
Optimized Conversion Funnel
As we mentioned earlier, growing the conversion rate is one of the marketing team's primary objectives. This is why we use analytics to study customer behavior. KPIs like the Cart Abandonment Rate inform marketers when something is going wrong in the conversion funnel.
The goal is to create a smooth, intuitive customer experience with the lowest possible "wind resistance." Customers need powerful search functionality to connect them quickly to the items they want. Cross-sell and upsell features help raise the Average Order Value of every purchase. Streamlined, single-page checkout that autocompletes for returning customers minimizes sticking points in closing the sale.
ERP-integrated e-commerce also arms marketers with a number of loyalty-building tools. These include coupons, gift cards, personalized web promotions, loyalty points and more. By carefully selecting an e-commerce platform with the right features, you'll be amazed at how easily you can attract, convert, and retain a happy, loyal customer base.