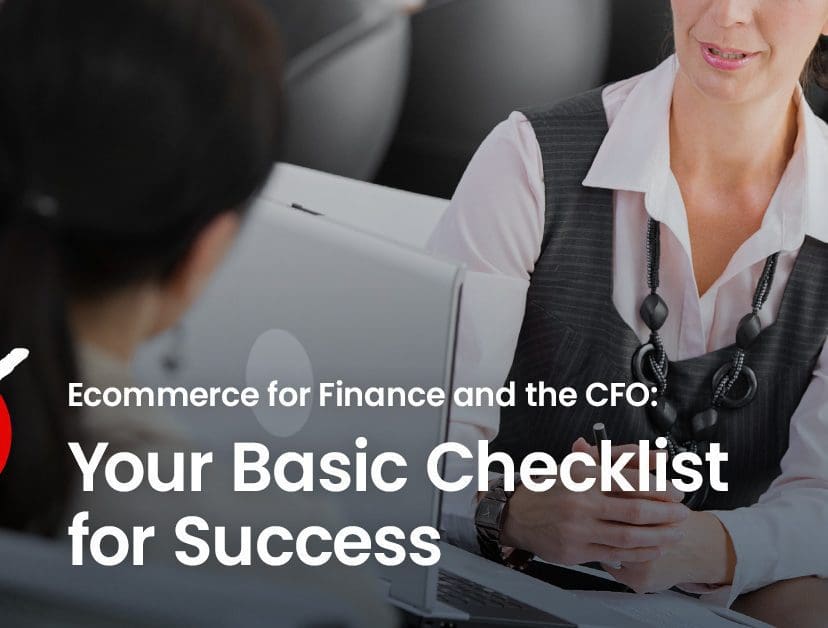 Ecommerce for Finance and the CFO: Your Basic Checklist for Success
12 August 2022
Business is money, and money is the Finance department's specialty. From financial planning and budgeting to auditing and accounting, Finance is responsible for managing the business's money and issuing accurate and timely financial statements.
The unique opportunities (and challenges) of managing an ecommerce channel create a specific list of requirements that Finance teams and the Chief Finance Officer (CFO) look for when choosing a solution. Finance's ideal ecommerce platform uses an existing financial system, allowing the Finance team an easier transition to the new sales channel. It maximizes security and efficiency while minimizing errors and ensuring a first-rate customer experience.
Think of it as an ecommerce finance department checklist for success.
ERP Integration
ERP integration automates the flow of business data between your e-payment solution and your ERP. You can share payments, payment methods, and invoices in real time between the two systems, which eliminates the need for your staff to re-enter this data manually. 
That saves your business time and money and eradicates the risk of human error and costly mistakes. And these benefits translate into smoother, faster service for your customers. 
One of the chief roles of the Finance department is optimizing the order-to-cash process — how quickly (and efficiently) money from new orders converts to company revenues. They're also responsible for accounts payable to suppliers, consultants, and other creditors.
It shouldn't come as a surprise that Finance prefers ERP-integrated ecommerce and payment solutions. Without ERP integration, Finance staff must copy every new order to the ERP. After invoicing the order, they must copy it back into the web store.
That might not be a problem for small orders with only one or two products. But when a large order comes in, this back-and-forth copying of orders and invoices becomes time-consuming. If the company gets a large volume of orders, its success can become a bottleneck that stalls order fulfillment, damaging the customer experience and ultimately holding back growth.
Equally important is integrated pricing data. B2B companies, in particular, often have highly complex product lines with multiple intricate pricing structures. Price data changes as the company acquires new clients, grows its services, and adjusts its strategy.
Having to coordinate pricing updates across two systems doesn't just cost the company a lot of time. It also carries a significant risk of expensive human error. With an ERP-integrated ecommerce solution, updates made on one system synchronize to the other automatically. That way, customers are guaranteed accurate pricing data at all times.
PCI Security
Finance is keenly aware of the risks posed by a data breach. Credit card security is a top priority for companies that do business online. A data breach can be catastrophic to an ecommerce business. Over and above any financial losses the company suffers (and the potentially irreparable damage to their reputation), they can be liable for any damages their clients suffer. 
PCI Certification is the only way to guarantee credit card data security. The Payment Card Industry Data Security Standard (PCI-DSS) is a set of requirements that the major credit card companies have established to ensure the safety of online transactions. PCI Certification is issued to products and systems that prove they meet these requirements — updated yearly to stay current with the latest threats.
However, obtaining PCI Certification is a long and expensive process that needs to be repeated every year to retain Certification.
That's why smart Finance departments look for an ecommerce provider that undertakes annual PCI Certification of their platform. That allows the company to benefit from the security of a PCI Certified solution without the time and cost of obtaining the certification themselves.
Controlled User Access
Ecommerce websites have a variety of users. You have customers (with accounts) and guests (without accounts) on the front end. And on the back end, you have marketing users who update website content, sales and support users who place and modify orders, executive-level users who approve orders, and admin users who manage the whole website. 
Clearly defining the access levels for each user group is critical to business security and overall strategy. For example, one business may allow customers to request product returns on the website. Another company may want to restrict this ability so that customers have to call in. A Finance department will choose an ecommerce solution that lets them define these permissions easily. 
In particular, B2B companies often have detailed purchase rules governing the sale of their products. For instance, clients may have to order a minimum quantity of a particular product. Or they may be limited to a maximum amount per order.
If a client wants to place an order outside of these purchase rules, it will require approval. With a well-configured ecommerce solution, a company can define levels of approval for each purchase rule. They can also escalate each case as needed on the web store's back end. That creates a smooth, easily tracked protocol for orders outside the normal purchase rules. 
Self-Service Features
Businesses without ERP integration lose a lot of money on post-sale service calls — almost always for simple issues like order status updates.
That might seem hard to believe at first. But every phone call to your company requires a staff member to answer and retrieve the customer's information. If a back order or delayed shipping occurs, a customer might call multiple times.
Suppose your company spends $5 per order taking order status update calls. With even 100 orders per week, you're spending $26,000 per year on order inquiries alone. That's over and above other routine calls like a change of address or a new payment method.
The same thing happens with payments. Your Account Receivable team keeps chasing payments when you can offer a payment portal to your clients to make payments online anytime, anywhere, with no support needed from your end.
As Finance departments are always looking for ways to lower operational costs, they want an ecommerce payment solution that lets customers manage these tasks themselves. Instead of calling your office, customers can log in and check the status of their orders, update their address and add new payment methods.
That's what k-ecommerce Integrated Payment (KIP) does. It enables customers to make payments online anytime, anywhere, through a portal with no support. They can also access their account information easily. As a result, your Account Receivable team receives fewer calls, benefits from accurate data, and minimizes payment turnaround time.
Not only does this save your team a lot of time and money, it dramatically improves the customer experience. As with placing orders or paying bills, your customers enjoy having the autonomy to manage their own accounts. This autonomy ultimately translates into long-term customer loyalty and significant cost savings for your business.