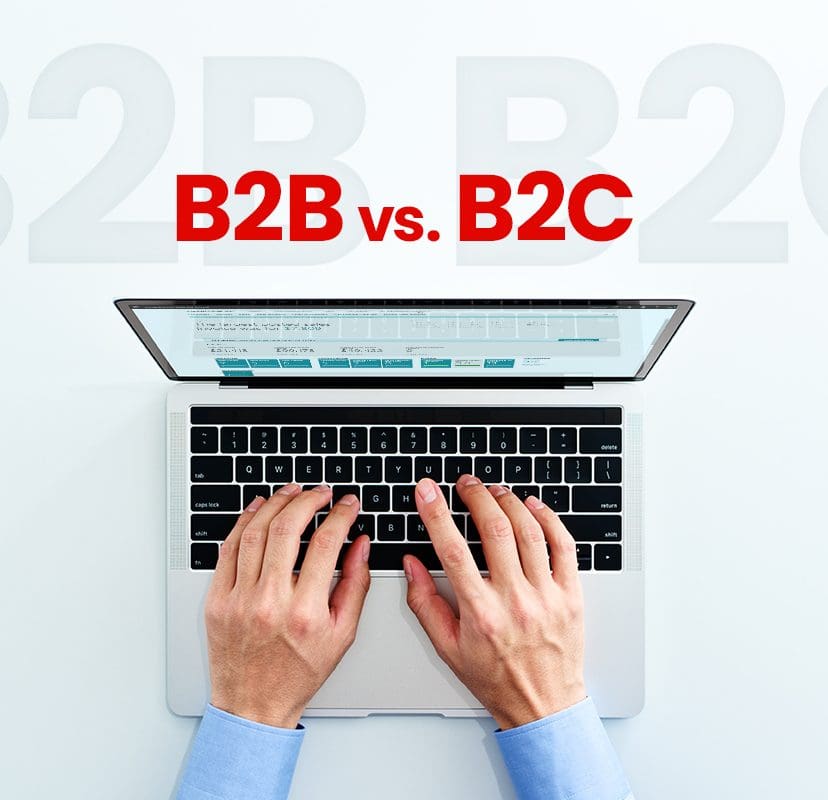 B2B
B2C
Blog
D2C
Ecommerce
B2B vs. B2C Ecommerce: Exploring the Key Differences
4 June 2023
Ecommerce is getting more competitive by the day.
According to a Grand View Research study, the B2B ecommerce market's annual growth rate is expected to reach 20.2% annually from 2023 to 2030.
Creating a frictionless and effortless buying experience is critical to staying competitive.
B2B buyers don't make impulse purchases the way B2C customers do. B2B sellers need an ecommerce platform with features and capabilities that meet their unique requirements and needs.
Ecommerce platforms typically fall into two categories:
Ecommerce platforms designed for B2B transactions.
Ecommerce platforms designed for B2C but adapted for B2B use.
How do you figure out the right ecommerce solution for your B2B business? To find out, let's examine the primary differences between B2B and B2C ecommerce.


What Are B2B and B2C in Ecommerce?
B2B vs. B2C ecommerce comes down to target customers. B2B (business-to-business) ecommerce refers to online sales between two businesses, and B2C (business-to-consumer) ecommerce focuses on selling goods and services to individual consumers.
While some businesses are solely B2B companies or solely B2C companies, some are both, with products that have both individual customers and business clients.
B2B ecommerce transaction examples include:
A software company selling CRM systems to a sales agency.
An office products wholesaler selling office supplies to an accounting firm.
A textile wholesaler selling fabrics to a clothing manufacturer.


B2C ecommerce transaction examples include:
A basketball enthusiast buying a pair of shoes.
Someone buying a monthly subscription from Netflix.
A student buying a smartphone from Amazon.

Comparing the Needs of B2B vs. B2C Ecommerce
B2B ecommerce and B2C ecommerce have similarities, but B2B ecommerce demands a more highly personalized user experience.
The personalization at scale that B2B buyers expect and demand requires leveraging customer data and tailoring your messaging and offerings for specific segments of your B2B audience.
A Forrester Consulting study found 66% of B2B customers expect more personalization in business than in-person transactions.
To develop that targeted approach, let's examine the eight factors that will shed more light on the B2B vs. B2C ecommerce comparison.


Target Audience
B2B products or services target a group of individuals representing a business or organization. Gartner found that buying committees usually have 6 to 10 decision-makers, with roles ranging from executives to key stakeholders.
B2B buying groups make purchasing decisions based on logic. An individual can't impulse buy when other stakeholders are involved in decision-making.
B2B buyers make purchase decisions based on past interactions, reputation, pricing, and the ability to deliver seamless buying experiences.
Most often, B2B suppliers that use customer data to implement personalization in their B2B marketing strategies get the sale and repeat business.
With B2C ecommerce, customers tend to buy based on emotional connections or fear of missing out, so hype and flash are usually enough to get a sale.


Buying Process
The B2B buying process is longer than B2C because B2B transactions often involve large purchases that are significant investments. So B2B purchases often require multiple levels of approval, contract negotiations, and, sometimes, formal proposals.
Given the long-term nature of B2B relationships, every purchase decision carries substantial weight. B2B sales require getting every transaction right, from the initial engagement to customer support.
With B2C ecommerce, the buying process involves less money, fewer decision-makers, and is fast and straightforward on simple storefronts.
Products and Services
Each B2B customer has its own requirements, goals, and constraints. To meet unique pain points and needs, B2B companies must have the customization capabilities to offer tailored products and services for each customer.
Consider General Electric, a provider of industrial gear like gas turbines. Businesses can't simply pick these products off a shelf. Power requirements, maintenance needs, overall budget, and more must be considered. They can't make an informed purchase without a customer-facing platform that shows them the specific products for their needs.
B2B ecommerce businesses need a detailed and informative approach to presenting products and services to make the sale. You must provide thorough product information, offer extensive support resources, and ensure your sales team can expertly guide customers through the decision-making process.


Pricing
Business buyers look for a pricing model to fit their unique needs and requirements.
To meet these expectations, B2B merchants must offer customized pricing models such as volume discounts, contract-based pricing, or bespoke pricing structures tailored to individual businesses.
Managing these pricing structures needs a lot of data and support. According to Bain & Company, a staggering 85% of B2B companies think they could make better pricing decisions. This highlights the crucial role of robust and flexible ecommerce solutions in streamlining and enhancing the pricing process for B2B businesses.


Customer Experience
Both B2B and B2C ecommerce share the common goal of delivering a positive customer experience, but they require different approaches.
B2B ecommerce focuses on customization, relationship building, and addressing complex business needs, whereas B2C ecommerce emphasizes convenience and speed.
With complex B2B transactions, the expectations of business customers are evolving fast. In fact, 81% expect suppliers to make functional updates to their ecommerce website multiple times a year.
This is why businesses that invest in customer experience are getting an ROI boost. In fact, B2B customer experience leaders enjoy a revenue growth rate more than double that of their industry peers.
To keep that competitive advantage, B2B businesses must invest in a highly-adaptable and user-friendly ecommerce platform with ERP integration that makes it easier for business buyers to do business with you.
In addition to personalized product recommendations and streamlined order tracking fulfillment, B2B businesses must provide efficient self-service options that benefit both the buyer and seller.
B2B customers are often repeat buyers, and an ecommerce platform that offers self-service features operating 24/7 is crucial for customer convenience when reordering. After all, virtually all B2B buyers prefer to self-serve than to speak with a salesperson when making a purchase.


Payment
B2B companies must offer a broader range of payment options and dynamic payment terms to cater to the more specialized needs and requirements of B2B customers.
B2B transactions typically involve large order volumes and repeat purchases. With high transaction amounts involved, B2B suppliers often offer credit terms so business customers can manage their cash flow better.
With complex payment requirements from business customers, B2B sellers must meet them halfway by making it easier for them to track their expenditures via purchase orders and a streamlined invoicing process.
Moreover, B2B fraud is becoming more common with the emergence of "empty shells." To give B2B customers more good reasons to pay bills online, B2B sellers must give them more secure payment platforms.
While B2C companies still need security, since B2C transactions are immediate and smaller, B2C companies can often use more straightforward payment options like credit cards or online wallets.


Catalog Management
B2B businesses need to offer larger and more detailed custom product catalogs to cater to their customer base's specific needs and requirements.
Bulk pricing, tiered pricing, and a custom catalog of products directly targeted to a specific customer help B2B businesses streamline transactions and meet the diverse needs of business customers.
A single, smaller comprehensive set of product pages is more common in B2C as individual consumer needs are less complex.


B2B vs. B2C Ecommerce: How To Differentiate Between the Platforms
It's important to understand the three key primary differences between B2B and B2C ecommerce platforms to identify which is best for your company.
Integration
B2B ecommerce platforms demand more extensive integration capabilities to address the unique requirements of business buyers.
These integrations may include ERP systems, CRM software, and other critical business tools to streamline operations, deliver real-time data, and enhance overall efficiency.
By seamlessly integrating with these systems, B2B platforms can facilitate smooth order management, inventory tracking, and personalized customer experiences.
On the other hand, B2C platforms might need less comprehensive integration, focusing more on user-friendly interfaces and hassle-free payment processing.
Customization
B2B ecommerce platforms offer a high level of customization to cater to their clients' diverse and specific requirements.
This includes the ability to create tailored product offerings, pricing structures, and approval workflows.
B2C platforms, on the other hand, typically prioritize simplicity and ease of use for end consumers, with less emphasis on customization.
Features
Given the complex nature of B2B transactions, it's not surprising that B2B ecommerce features differ from B2C ecommerce features pretty drastically.
B2B ecommerce platforms often incorporate advanced functionality to tackle the complexities of B2B transactions, including customer-specific pricing, real-time inventory tracking, and customized payment arrangements.
Some also offer catalog management, enhanced customer relationship management, and a robust checkout process. All that and more to ensure your B2B business maintains strong, lasting relationships with your valued partners.
B2C companies sell more straightforward products. As such, B2C platforms concentrate on features that appeal to individual consumers, like user-friendly navigation, straightforward pricing (fixed or bundled pricing, for instance), and simplified order tracking and fulfillment.
Final Thoughts: Optimize Your Ecommerce Solution With k.ecom From k-ecommerce
B2B buyers have heard all of the old sales pitches. They want more: streamlined processes, personalized experiences, and customer-facing platforms that make their lives easier.
You can't settle for a basic online store to win B2B business. Along with a strong B2B ecommerce strategy, you need a B2B ecommerce solution that's designed specifically for a B2B business like yours.
At k-ecommerce, we offer k.ecom, an ERP-integrated ecommerce solution to help you build an online store that best serves B2B (and even D2C) ecommerce.  And before making a decision, be sure to review the five essential factors for choosing a B2B ecommerce platform.