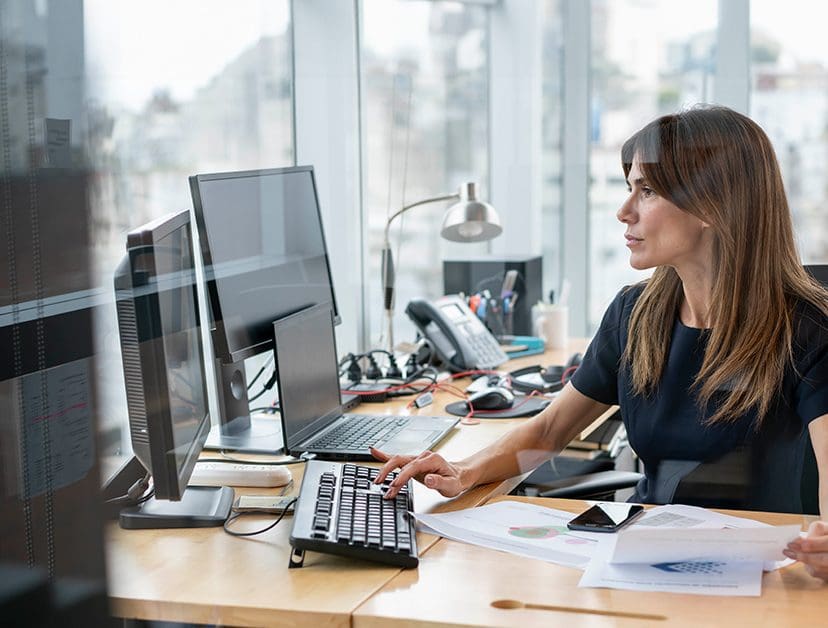 How B2B Ecommerce Personalization Can Help Your Business
16 October 2023
As the appetite for ecommerce activity continues to trend upward, more B2B companies are moving their businesses online. Recent estimates show that 24% of all U.S. B2B commerce sales will be digital by 2027, up from 16% in 2021.
However, when it comes to ecommerce, today's B2B buyers expect a similar quality of service to what B2C customers receive. If companies can't meet this ecommerce challenge, it can hurt their client relationships and revenue.
This is a valid concern, especially for businesses that have spent years cultivating a strong customer base.
The solution lies in B2B ecommerce personalization. This guide will cover what you need to know to offer a unique customer experience to all clients on your online store.
What Is B2B Ecommerce Personalization?
How B2B Ecommerce Personalization Works
How Companies Can Personalize the B2B Ecommerce Experience
Benefits of Personalization in B2B Ecommerce
Final Thoughts: How Personalization Can Help Your B2B Ecommerce Business
What Is B2B Ecommerce Personalization?
When it comes to B2B ecommerce, personalization means offering each customer a unique shopping experience that is based on factors like their interests, past behaviors, specific pricing, and purchase history.
Client tastes have evolved from the early days of ecommerce, when all they needed was a convenient way to get goods and services digitally. Today, the quality of the online shopping experience can affect a customer's purchase decision.
As a result, personalization is required to meet customer expectations.
How B2B Ecommerce Personalization Works
B2B ecommerce personalization needs customer data to work correctly, and this data comes from their interactions with your brand. As a customer signs up, defines their account preferences, browses product categories, and places orders, they generate valuable data that can be used to create a profile.
For companies just getting started with an ecommerce store, ERP systems are a great source of historical customer data. B2B companies can use an ERP-integrated ecommerce solution to provide personalized experiences for long-time customers based on this data.
How Companies Can Personalize the B2B Ecommerce Experience
Personalization should be an essential component of your B2B company's ecommerce strategy, regardless of whether you want to go fully online or employ an omnichannel approach. With the right data, you can offer a personalized B2B ecommerce user experience by including these best practices.
Self-Service Portal
When it's time to place an order, your store can tailor the experience for each B2B customer with a self-service portal that grants a representative access to all their required information.
When the representative logs in to the ecommerce site, they are greeted with a custom landing page where they can see all the information necessary for a seamless shopping experience, including their business's:
Contact information
Preferred payment gateways
Delivery address
Account preferences
Purchase history
All this information can be managed from the portal. The landing page also serves as a starting point to view the product catalog and services available on your ecommerce website.
Recurrent Orders
Many B2B customers are likely to order the same products in similar quantities from a vendor. This is because these suppliers are a regular part of their business operations, similar to how a grocery shopper regularly buys toilet paper.
Based on their order history, you can offer customers the option to reorder products based on a previous purchase without having to navigate the store and select each item individually. This essential B2B ecommerce feature enables them to skip the other parts of the buying process and jump straight to checkout, saving them valuable time.
Pricing Terms
Suppliers typically have different price agreements with each customer based on a number of factors, like order quantities, company size, and the duration of the relationship.
When setting up your B2B ecommerce website, these varied pricing terms can also be replicated for each offline client. This ensures that when they decide to take advantage of the online buying experience, they get the pricing they expect. That way, they don't have to contact customer support about inaccurate costs — or choose to abandon their shopping cart and buy their products elsewhere.
Product Recommendations
You can use a customer's browsing history and past orders to predict other products from your catalog that would spark their interest. With this data, you can make recommendations, either for improved versions of products they have previously ordered or for related products that complement what they have.
With this information, your B2B ecommerce site can use cross-selling to offer product bundles that save costs and are useful for a customer's operations.
Custom Catalog and Search Results
B2B clients know exactly what they're looking for and are more interested in a functional shopping experience where they spend less time browsing the store. This is different from B2C ecommerce experiences, which may be more emotion-driven.
Because of this, tailoring your storefront items and the search results is a great personalization option for B2B clients.
Similarly to product recommendations, this involves using a customer's past purchases and browsing history to predict what items they would like to buy in the future. As a result, the custom catalog and search results will only show products that align with the customer's interests.
The result is a more efficient shopping experience for your B2B clients.
Marketing Segmentation
Compared to other marketing tactics, email is the most effective at driving B2B sales. A SAP report shows that 39% of B2B customers said email marketing had the largest impact on their buying decisions.
This impact may be because email marketing provides opportunities to use customer segments to offer content that is more likely to capture an audience's attention. Using insights from customers' in-store activities, you can implement personalization strategies in your B2B marketing emails and offer relevant content to your customers.
Unlike generic email content that can alienate clients, personalized content can have the opposite effect, increasing engagement and, by extension, your business's bottom line.
And the stats prove it. Marketing emails with personalized content in the body have a higher open rate (30.26%) and click-through rate (2.7%) than generic messages (26.55% and 2.1%).
Benefits of Personalization in B2B Ecommerce
Simplified procurement process
Increased sales
Improved customer loyalty
Simplified Procurement Process
By offering a personalized B2B ecommerce user experience, you make it easier for customers to complete tasks on your store. As a result, buyers can spend less time on activities like finding the right products, adding items to the cart, adding payment information, and choosing shipping options.
Improved Customer Loyalty
Personalization also has a positive impact on brand loyalty. A 2023 Twilio Segment report shows that 56% of shoppers become repeat buyers of a brand after receiving a personalized experience.
While the reasons for this may be varied, what's clear is that customers are more discerning with their tastes when it comes to digital experiences.
Increased Sales
Personalization also can lead to better sales. The SAP report shows that 59% of B2B sellers confirmed they lost sales because of insufficient personalization on their ecommerce website.
That's because personalization leads to more cross-sell and upsell opportunities, reduced cart abandonment, better marketing content, and more returning customers. These are all things that improve conversion rates for your business.
Final Thoughts: How Personalization Can Help Your B2B Ecommerce Business
Offering a better online shopping experience through personalization is a great way to make your business stand out from other B2B ecommerce companies. By providing a user experience that is fast, efficient, and customized to match client expectations, you can secure the loyalty of your current client base while also attracting new customers to your business.
Looking for a B2B ecommerce solution that comes with several personalization options, including a self-service portal, customer-specific pricing and payment options, access restrictions, and integration with ERP systems for data sharing? Contact us today to learn how k.ecom can help you offer a custom ecommerce experience to your B2B customers.